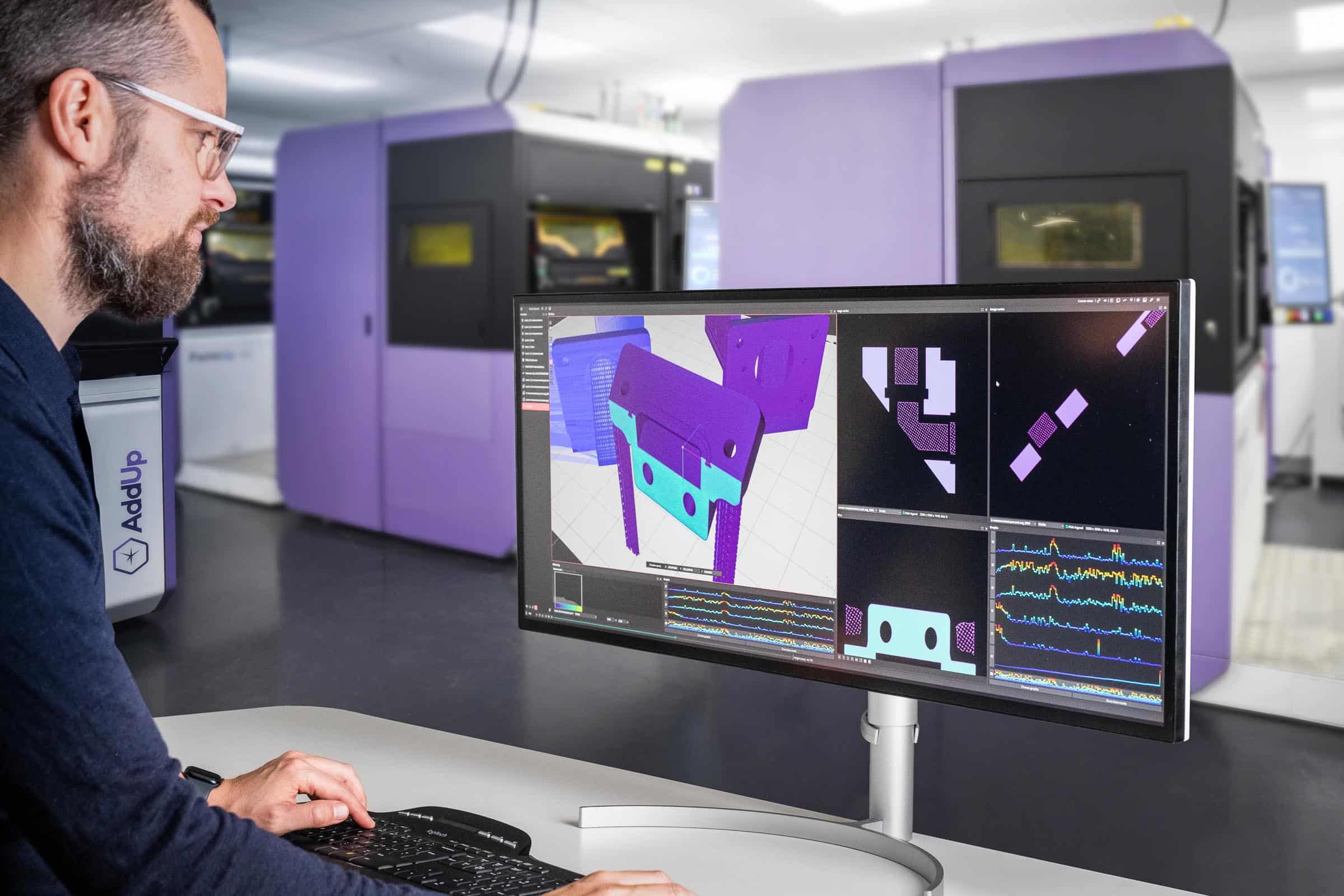 AddUp and Interspectral join forces to reduce quality inspection costs and improve efficiency by developing an advanced AM Monitoring data visualization solution. This new solution will be available globally on all new AddUp systems equipped with Melt Pool Monitoring. 
Clermont-Ferrand, September 28, 2022, AddUp, a global metal additive manufacturing OEM offering multi-technology production systems, well known for its FormUp® and BeAM 3D printers, has entered a development and license agreement with the Swedish 3D visualization and data fusion software company Interspectral.
AddUp's FormUp® 350 includes one of the most advanced monitoring suites available on the market, based on three different solutions working in synergy. After the successful launch of AddUp Dashboards last February and the introduction of a closed-loop powder bed monitoring solution, the company is now focused on melt pool control. Based on multi-sensor hardware mounted into the optical chain, this system tracks in real-time power and emissivity drifts, along with physical position of the lasers' spot by achieving micron-level accuracy for every single layer and tailoring datasets to different user profiles, this solution provides valuable insights for many different job functions, such as quality experts working towards serial production.
– AddUp's melt pool monitoring solution has already generated vast interest on the market, especially in the Aerospace segment. But to go even further, we wanted to provide the best-in-class multi-channel digital twin which would be able to track and focus potential defective zones during production while working on pure RAW data, explains Mathieu Roche, Software Product Manager at AddUp. Interspectral and its AM Explorer software have been a no-brainer when we started looking for the best solution available.
AM Explorer, developed by Interspectral, is an OEM agnostic 3D visualization software that makes it possible for end users to create multi-channel digital twins from design, simulation, monitoring, and post-build part analysis data collected during the AM process.
With AM Explorer, AddUp customers will now be able to explore and analyze the massive melt pool datasets in full 3D with data collected both during and after production.
– This is a major breakthrough in the additive manufacturing industry and the first in-depth OEM integration of our multi-channel visualization solution AM Explorer. Through this in-depth integration, Interspectral and AddUp have empowered 3D printers with AM Explorer to achieve optimized efficiency for additive manufacturing production, says Isabelle Hachette, CEO at Interspectral.
The development and license agreement entered by both parties will lead to new major releases of AM Explorer that will be bundled with AddUp's melt pool monitoring solution. A first version of AM Explorer with AddUp integration will be demonstrated at Formnext this November in the AddUp booth (Hall 12, E01).
Visual Sweden is very happy to share this news. This is especially against the background that the foundation for AM Explorer was laid in one of Visual Sweden's first projects, based on the need for quality assurance at Siemens Energy in Finspång. There, for several years, 3D printing in metal has been used for the production of complex products, such as burners for turbines and more.
– The project was basically focused on using X-rays for quality control, but during the course of the project the concept was broadened to include sensors from the process, says Anders Carlsson, process manager for Visual Sweden. The whole thing is a very nice example of how visualization technology that was originally developed for other purposes can be used in industry. We also have several examples of this in the industrially oriented project Visual LIFT, where small and medium-sized companies in Eastern Central Sweden are offered support for the use of visualization in various parts of the companies' operations, such as e.g. production planning and marketing.